Volunteer Recruitment Underway for UWDC's Annual Free Tax Prep Program
Help be a catalyst to lift Denton County children out of poverty as a tax prep volunteer.
DENTON, TX (September 11, 2023)- United Way of Denton County seeks community volunteers interested in helping increase the economic mobility of struggling families in Denton County by providing free tax preparation for those who qualify.
The Volunteer Income Tax Assistance (VITA) program, created by the IRS and implemented by United Way of Denton County since 2008, helps thousands of hard-working households file their federal income taxes accurately, on time, and for free.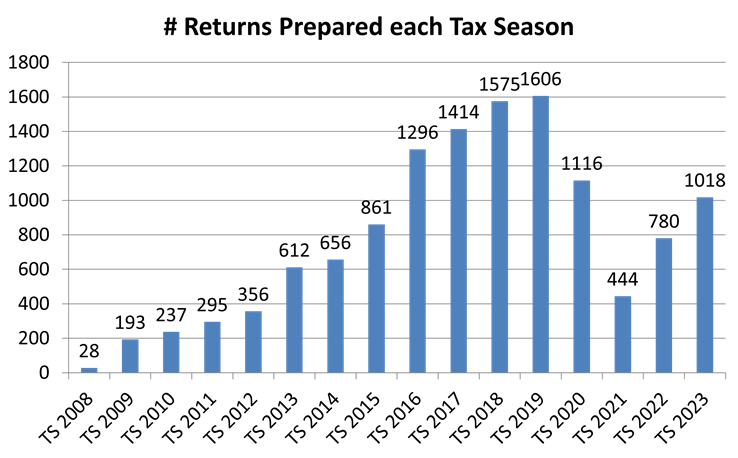 VITA is an effective tool that can provide an average $5,000 tax return for working families who often live paycheck to paycheck. But the IRS estimates that over $15 million is left on the table by VITA-eligible Denton County taxpayers every year.
United Way of Denton County wants to increase the number of households served by VITA which means more volunteers are needed to prepare the returns.
"Last year our small group of volunteers filed over 1,000 tax returns resulting in a $1.2 million impact for our most vulnerable families," explained Gary Henderson, United Way of Denton County President & CEO. "But, with over 102,000 households living at or below survival in Denton County, we know we can double those numbers to really move the needle for economic mobility."
A hybrid Lunch-and-Learn on Wednesday, September 13th at noon will provide interested volunteers with an overview of the program and the training which begins this Fall. Volunteers are needed in a variety of positions including as tax preparers, intake specialists, and translators for VITA locations throughout Denton County.
Those interested in participating in the Lunch-and-Learn can email United Way of Denton County Director of Financial Initiatives Teddy Yan at teddy@unitedwaydenton.org. For more information about volunteering with VITA, visit www.unitedwaydenton.org/volunteer-vita